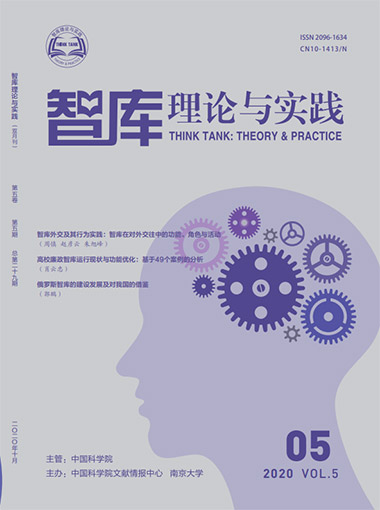 The purpose of this journal: Based on the advantage of think tank research in Chinese Academy of Sciences and Nanjing University, this journal combines and gathers high-end resources of think tanks at home and abroad to explore think tank theories, study the think tank construction, guide the think tank practice and spread think tank achievements. It integrates academic, instructive and productive features to build up the first-rate academic journal with an international perspective in the think tank research field in China.
The chief editor of this journal: Professor Xiwen Liu, the deputy director of National Science Library of Chinese Academy of Sciences (CAS), serves as the chief editor of Think Tank: Theory & Practice. Professor Jianjun Sun, the dean of School of Information Management of Nanjing University, Professor Zhiqiang Zhang, the director of Chengdu Documentation and Information Center of CAS, and Professor Jingli Chu, the director of the Scientific Journal Research and Training Center of National Science Library of CAS, are the deputy chief editors.
Column setup: feature, theoretical research, think tank construction, case analysis, think tank report, expert view, think tank evaluation, etc.
Main contents: think tank basic theories, study on methods of scientific research; organizational management of think tanks, operational models, talent cultivation, fund investment, construction experience; development characteristics and case analysis of think thanks at home and abroad; reports of think tank research, policy suggestions; think tank influence, research on think tank evaluation indexes, methods and systems, etc.
Welcome the innovative, prospective and applicable research results of different types such as academic discussions, construction practices, comprehensive reviews, case analyses and reports in the field of think tanks.